Are you wanting to create a website but you're not sure which hosting program to go with? Currently, there are more than 1.9 billion websites on the internet, so being cautious about hosting is a good idea to stand out.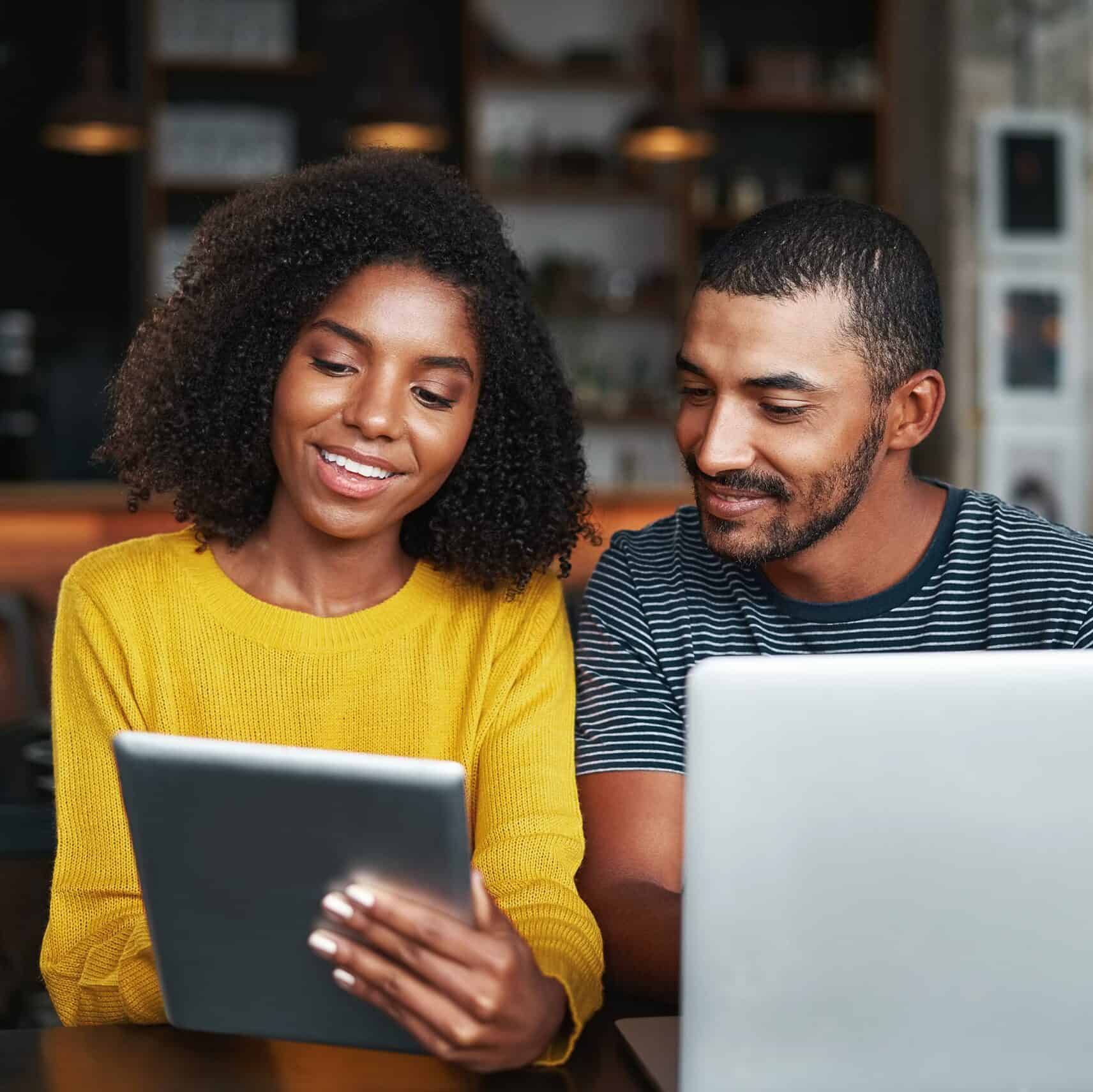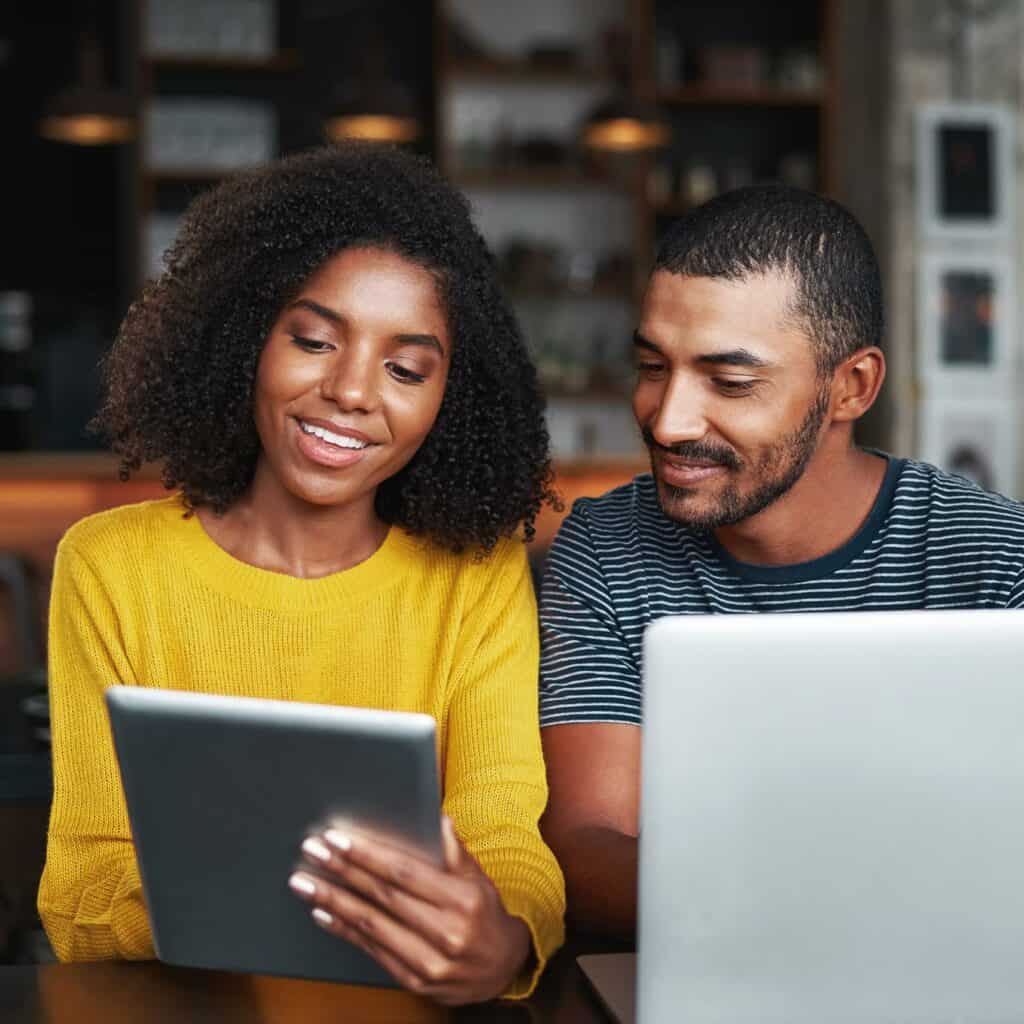 When it comes to Squarespace vs WordPress, 2 very popular profile builders, it's important to view the characteristics of each.
In this article, explore the similarities, differences, and all about each hosting platform to decide what's right for you.
Read on to find your dream platform in this complete guide.
What Is Squarespace?
For doing a brief comparison of Squarespace vs. WordPress, it's important to understand the differences between each.
Squarespace is one of the best website builders out there and is considered SaaS (software as a service). You pay a monthly fee and it has everything you need to maintain and build your website. Whether you're needing a domain, support, e-commerce, hosting, content management, etc., they have you covered.
You don't have to worry about knowing codes for this website builder. You can edit and construct your site with ease without any HTML whatsoever. If you do want to add code, that is a possibility though.
The pros of SquareSpace are:
Easy website setup
Easier with small websites
Clean user experience
The cons of SquareSpace are:
You're limited with features
Limited on designs
It costs more than a hosting website
Limits will put you at a disadvantage when you're trying to grow your business
What Is WordPress?
WordPress has 2 different versions, self-hosted and hosted. Self-hosted WordPress you can download and install on your own server. It's open-source so the code used is readily available and easily modified.
You can customize your website with this website builder since it's flexible. While you can install WordPress for free, there are charges for the domain registration, hosting, and any development or plugin costs.
Hosted WordPress is similar to Squarespace since it's a SaaS (software as a service) tool. You pay monthly and will be able to maintain and build your website.
In order to use e-commerce features, you'll need to download third-party tools. If you'd like to use more attractive themes, there's an additional fee.
It's more flexible than Squarespace since you can buy more templates and use more apps.
The pros of WordPress are:
Easy to use although there's a learning curve
Great e-commerce platform
Reasonably priced
Flexible
Plenty of themes and plugins
The cons of WordPress are:
You have to manage your website's security
You have to make backups and install updates
You'll have to scale resources by upgrading your hosting
Conventional vs Unconventional
WordPress is great to use if you're creating a website that's more unconventional. Squarespace is great for building conventional websites. Conventional websites are blogs, small business websites, and photography portfolios. They'll need maps, forms, and photo galleries.
Unconventional features are typical needs of small businesses such as a social network on your website. WordPress has plugins for social networking.
When comparing WordPress vs Squarespace, it's important to know that everything comes included with Squarespace. Whereas WordPress you have total control, but it's more work overall. It allows you to do total customization.
Squarespace is great if you're not looking to put a ton of time and effort into a website. If you're looking for a creative and professional website, then Squarespace is a great fit. It's also easy to manage so you can focus on your goals. You also don't have to worry about coding.
If you're looking for complete customization and a hands-on approach, then WordPress is right for you. If you're a beginner or looking for a quick website, Squarespace is a better option.
How Is E-Commerce Handled?
Did you know that the U.K. has the highest e-commerce expenditure per capita? While not everyone is concerned about e-commerce, if you are, then you'll want to know that WordPress offers you more flexibility. Squarespace has e-commerce but it's limited compared to WordPress.
A plus of Squarespace is that it includes built-in cart recovery emails. You can still get that with WordPress but you'll have to get a third-party plugin.
Squarespace only lets you choose 3 payment options:
WordPress has more payment options and many e-commerce plugins. Squarespace has a transaction fee along with credit card processing fees.
Themes
WordPress has thousands of more options than Squarespace when it comes to themes. While Squarespace has a limited number of themes, the options you can choose from are some of the best for any website. Some WordPress themes can only be fixed with CSS code.
The themes for WordPress are entirely customizable if you hire a developer or are willing to use code. Since Squarespace is a point and click builder, it's easier to use and place your theme.
If you decide to go with WordPress, ensure you're using a reputable theme since there can be some malicious code out there.
Mobile Performance
When choosing between WordPress vs. Squarespace, you'll want to ensure they'll work well on mobile devices. Did you know that 51% of online shoppers use their mobile devices to buy products? If you decide to go with WordPress, ensure your WordPress template works with mobile devices or you can lose customers.
Squarespace's content is easy to read on mobile devices. Their templates are responsive, which means they'll adjust automatically for any device.
Content Management
In WordPress, you can easily go between WYSIWYG and HTML when you're editing your content. You can add what's known as code blocks in Squarespace, you don't receive access to HTML behind your post and pages.
In WordPress, every version of a post or page can be kept and easily changed on the system. In Squarespace, you aren't able to do this. It also doesn't have autosave.
WordPress lets you have a media library where you can edit and store your images and documents. While Squarespace has a similar improvement, it doesn't have the same concept for updating and managing.
As far as Squarespace vs WordPress SEO, you can use tags and categories more easily in WordPress than Squarespace. For WordPress, you can create custom content types. This lets you show your site's content more easily to users who can then filter it.
One area that Squarespace shines is with what's called summary blocks. This is where you can keep extracts from your blog and thumbnail images, and place them anywhere on your site. You can also add a slideshow containing pictures that have been tagged.
You can do the same in WordPress but it'll require configuration.
Ongoing Maintenance
When it comes to ongoing maintenance in WordPress, you're responsible for security, backups, and updates. Most of it can be automated with plugins. In regards to Squarespace, you don't have to worry about maintenance or updates.
Squarespace handles the updates and maintenance for you. Squarespace doesn't have a way for you to backup your site.
Pricing
While WordPress is free to use, you still have to pay for hosting. There are free themes on WordPress, but good themes normally cost money. They can range from around $39-$120, but then you'll have the rights for that theme. There are many free WordPress plugins to choose from as well.
Squarespace has 4 different plans ranging from $12-$40 per month. You'll receive everything you need in that plan.
Customer Support
WordPress is open-source which means no customer service. Certain plugins and themes do contain customer support. Some web hosts will help you install and set up your WordPress site. Squarespace has a live chat option, plus 24/7 email support during working hours EST.
WordPress does have plenty of tutorials and resources to choose from for help. Unfortunately, anyone can develop tools for it so it can be hard to find the information you need. The tool's developer can help you, but you'd need to see if they're open to helping.
You can hire a specialist who is skilled in WordPress to help you with your website.
Extensions and Integrations
As you continue building your website, you'll want to connect your site with third-party tools and features. There are numerous plugins to choose from for WordPress, so if you're looking for a certain feature you're bound to find it. Since WordPress is so popular, many have their own WordPress plugins that integrate with a WordPress website.
Squarespace doesn't have as much when it comes to integrations and extensibility. While you can add customizations and integrations, it doesn't have APIs that developers can use to build on. Their third-party integrations are more limited.
Data Portability
Squarespace's export feature is extremely limited. You can export certain features of your content such as one blog post, galleries, and pages. Your video blocks, text, audio, and album pages can't be exported.
WordPress has many built-in tools so you can export all of your data easily. You can also backup your plugins, themes, and database.
Switching from WordPress to Squarespace is pretty convenient since there are many helpful guides through Squarespace. You can easily transfer using .XML files, just make sure you disable any plugins.
Squarespace will import:
Comments
Images
Categories
Tags
Site pages
Attachments
Blog pages
Posts
Authors
To switch from Squarespace to WordPress, you'll need a WordPress site set up. You'll also need to register or transfer your domain name. After this, you'll need to install WordPress and find hosting.
To export your content:
1. First, go to the Home Menu, then click Settings.
2. Next, click Advanced, and then choose Export/Import
3. Then click the WordPress icon.
4. For more than one blog page you'll have a Select Primary Blog message pop up. Unfortunately, you can only choose one Blog Page.
5. Choose a primary from your drop-down menu, then choose Export.
Languages Offered
Squarespace offers 6 languages (Italian, Portuguese, Spanish, German, English, French). You can also choose a different country/timezone. The only currencies supported are what's supported by PayPal and Stripe.
You can duplicate your page. In order to do this, you'll have to create different sites or site structures for each language.
For WordPress, you can choose from dozens of languages. You can choose your own language under profile settings. You can create a WordPress website in almost any language you can think of. There's also the option to translate WordPress if your language isn't available.
Many WordPress plugins are easily translated into many languages as well. It doesn't come with multi-lingual functionality without plugins though.
Blogging Tools
If you're in e-commerce, you'll still want a blog to attract visitors to your site for SEO purposes. Did you know that 62% of Canadian retailers said their conversion rate and online orders doubled over the past year? WordPress has many free templates for bloggers. You can also use HTML directly. Thankfully, you don't have to go into the code much since you can use the plugins on the website. As far as the blogging community, anyone with a WordPress account can comment on any WordPress blog.
There are also many WordPress accounts that can go onto your blog without having to log in to comment. There are filtering comment plugins you can select as well.
As far as Squarespace, they also have free blogger templates. You can pick from an assortment of interfaces that show your blog posts on your homepage. They can be found in a magazine-style grid or chronological feed of blog posts.
Many offer multiple authors to contribute as well. So if you'd like to run a blog with coworkers or friends it makes it easy. You can tag, edit, and categorize blog posts with Squarespace.
You can also excerpt and send them to your social media accounts.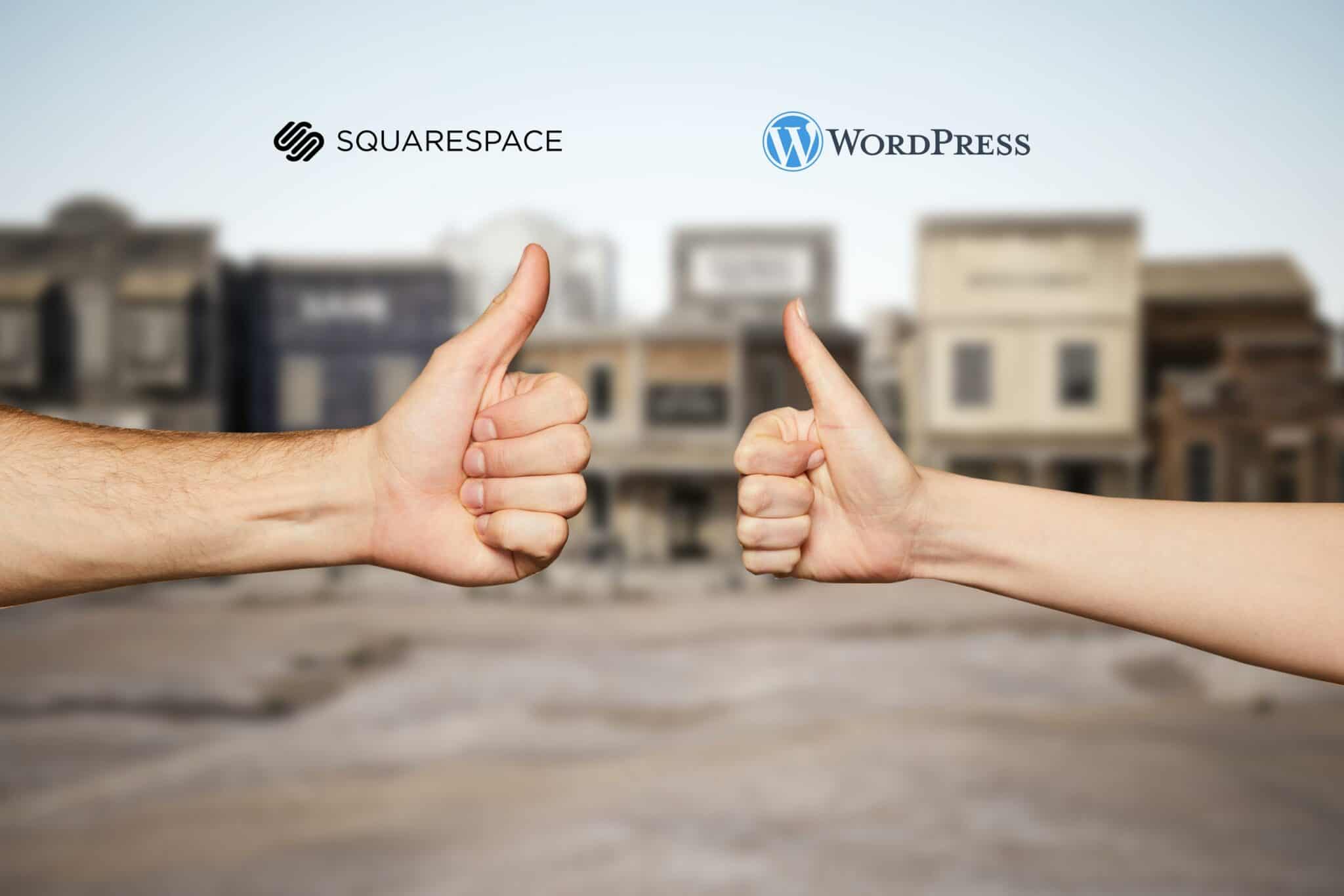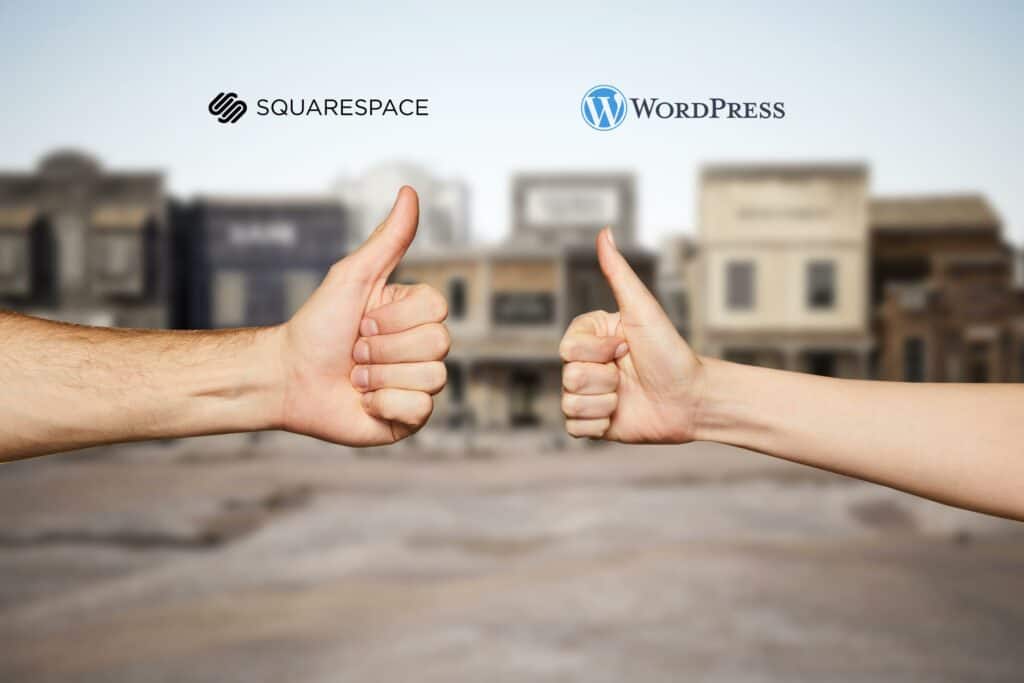 Comparing Squarespace vs WordPress
When you're doing a comparison of Squarespace vs WordPress, it's important for you to decide what's most important to you whether you're looking to spend more time or have a quick website done. If you're looking to outsource the work, there's no limit to which you choose.
Would you like to have your new professional website started?
Contact us today and we can make your dream website whether it's Squarespace or WordPress.